"Taking care of our mental health is important for everyone – and everyone deserves help and support. Whether you or someone you know is struggling in some way, or you just want someone to talk to, this toolkit can offer a little help, support, and connection. You are not alone. We are all in this together. The first step is starting the conversation."
Excerpt from The -Ism Youth Files Mental Health Toolkit (in collaboration with Oregon Children's Theatre)
Download the toolkit at MediaRites.org
---
The –Ism Youth Files (IYF) is a writing and podcast project about mental health and wellness, centering on BIPOC youth and youth with disabilities led by executive producer Dmae Lo Roberts. MediaRites has selected 20 essays, poetry and graphic novels included in a published e-book: "Speaking Our Truths." The book is co-edited by Sandra de Helen and the podcast is engineered by Clark Salisbury. The project's mental health consultant is Eleanor Gil-Kashiwabara of Luminosa Psychological Services. who also co-edited the book and podcast scripts. MediaRites is a Peabody award-winning multimedia nonprofit in Portland, Oregon.
ISM Youth Files Toolkit
The -Ism Youth Files: Mental Health Toolkit is a toolkit of resources designed for youth, educators of youth, and families to start a conversation about mental health and the various stigmas that come with it. It provides a multitude of resources for various mental health struggles, keeping in mind cultural facilitation and importance.
Podcast Summary
The Speaking Our Truths: IYF podcast is a special five-part documentary series of half-hour episodes with interviews from 20 youth artists and writers who submitted work and were chosen to be a part of The -Ism Youth Files project. This podcast series centers mental health and wellness for BIPOC youth and youth with disabilities, led by Executive Producer: Dmae Lo Roberts. The work this youth submitted (which includes essays, poems, graphic novels, and artwork) is now available as an anthology book available in paperback or ebook form on Amazon. We listen to them describe the trials they have overcome, including a global pandemic, and how various factors have impacted their mental health and wellness and how they have overcome to flourish now.
The –Ism Youth files book and podcast project was produced by Dmae Lo Roberts with Amanda Anderson and Samson Syharath. Literary works editor was Sandra de Helen and the mental health consultant is Dr. Eleanor Gil-Kashiwabara. The episodes were mixed and mastered by Clark Salisbury.
Each episodes features music by Tomo Singh in Boston, MA.
Youth hosts are Deandre Avant, Cara Chen, Janelle Theobald, Danica Leung and Mila Kashiwabara.
Podcast is appropriate for ages 14 and up. A content warning begins each episode for listeners.
---
Speaking Our Truths: The –ISM Youth Files Podcast Series
Episode Listings
"I remember the day well, when he sent us a picture of him all decked out in his new gowns. Dressed all the way down in multiple layers of armored cloth of polyester. And all I could conjure was, "This can't be real. Is it?" – excerpt of Journeya's writing featured in this episode hosted by Deandre Avant
Host Deandre Avant in the first episode weaves his personal story as a young person navigating COVID lockdowns and BLM protests in Boston during the pandemic. He tells us about other youth around the country and India who were also greatly impacted by social isolation, learning online for the first time and contending with their fears for family members and themselves when life had changed so drastically for the world. Hit especially hard were the BIPOC and disability communities. Hear insightful and honest stories about this world-changing event that affected mental wellness for themselves and their families.
Hosted by Deandre Avant and featuring:
---
Episode 2: World On Fire
"I think our generation is much more aware. And even though there are still situations where people are bullying each other or not being empathetic towards each other, but in general, our generation seems to understand more than the previous generations have." – Adrija Jana quoted in this episode hosted by Cara Chen
Join host Cara Chen recites her winning poem home • sick • ness that she wrote in social isolation leading us to a deep dive into the mental health challenges that our youth writers faced as the pandemic continued. Many youth turned to activism to enact social change on the local level as the world seemed on fire both literally and symbolically.
Hosted by Cara Chen and featuring:
---
Episode 3: Added Challenges
"I was born with several physical and mental disabilities, including autism. And because of that, I always struggled to fit in and I experienced depression. One of my teachers once said, "every generation has a turning point." For my generation, it was the covid-19 pandemic. It forced us to adapt and make changes we might not have made." – Jenell Theobald
Host Jenell Theobald discusses the challenges of disability during and after the pandemic as youth returned to school, and how that compounded issues in the pandemic. She speaks from personal experience and also brings in other youth that have similar challenges.
Hosted by Jenell Theobald and featuring:
Episode 4: Surviving Trauma
"Life will get hard again. I know that. This time, however. Instead of staying stuck in my hell. I will rise. I will learn to love life again, and I will live." – Isabella Santana quoted in this episode hosted by Danica Leung.
– Podcast Coming Soon –
Host Danica Leung features two strong young women, KyLynn Lucio off the Lower Sioux Reservation in Minnesota and Isabella Santana in Torrence, CA, who share their intense personal stories of sexual violence, trauma and self-harm and how they have overcome hardship through therapy and family support.
Hosted by Danica Leung and featuring:
Episode 5: A Mental Health Journey
"It will be something we look back on and whether there's another pandemic or there's just some event that needs to be overcome, it would be a good way to recalibrate and say, 'We've done this before. We are capable of overcoming it and moving forward.'" – Kaitlyn O'Neill quoted in this episode hosted by Mila Kashiwabara
– Podcast Coming Soon –
Our youngest writer Mila Kashiwabara, hosts the final podcast episode. We bring together youth writers who speak honestly about the meaning of mental wellness, what gives them comfort, what they've learned from the pandemic milestone and how they are still working to achieve healthy lives.
Hosted by Mila Kashiwabara and featuring: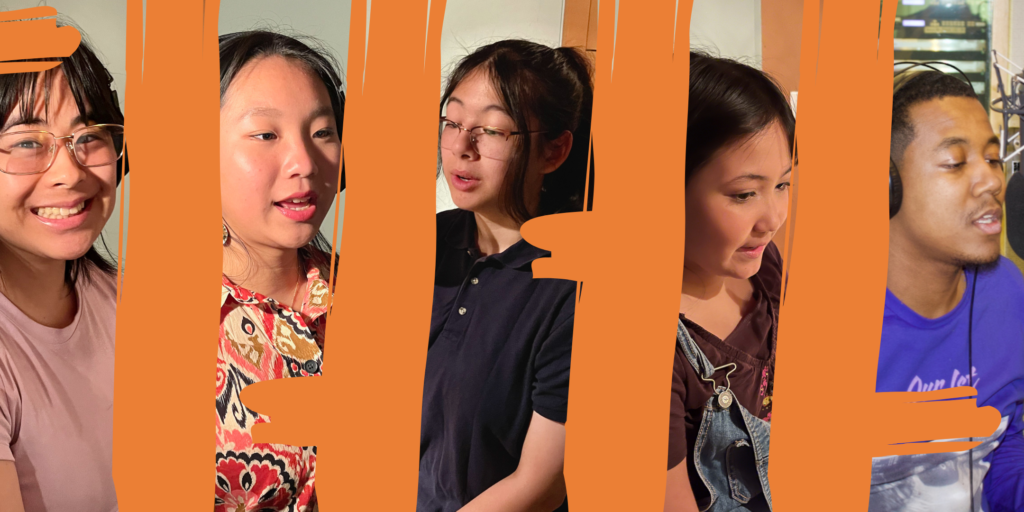 ---
Speaking Our Truths: The –Ism Youth Files
Speaking Our Truths: The -Ism Youth Files is an anthology by youth ages 10-21 from BIPOC and disability communities sharing their personal stories. This new generation of young adults writes candidly about surviving loss, mental health challenges, and social tensions through an unprecedented milestone in their lives.
Written by twenty youth authors, geared towards youth, this anthology weaves together different perspectives on mental health and wellness. All authors are from the BIPOC and disability communities, which were disproportionately affected by COVID-19, a generation forever changed by an unprecedented pandemic and whose voices have not really been heard, until now. Detailing personal challenges and struggles through art, graphic novels, poetry, and prose, these youth express profound insight and vulnerability about how their lives have been changed and that of their loved ones and their communities.
A diversity of voices and mediums, this book is great for fans of anthologies. Young adults will see themselves in these authors. Adults, educators, and mental health professionals will gain an understanding of a new generation of youth and can hopefully better communicate with and address their concerns and needs. Recommended for ages 13+.
The Reviews Are In
"The works reflect on the isolation and widespread fears brought about by the simultaneous stresses of Covid-19, social unrest and racist attacks, and the stresses of reintegration into in-person schooling. They also record peers' cruelty and adults' obliviousness… Some writers' activism is inspirational; others inspire simply by holding on, showing optimism and resilience." Kirkus Reviews
"The artists don't shy away from pain or sincere self-reflection. They tackle suicidal ideations, self-harm, self-neglect, OCD, anxiety, depression, disordered eating, sexual assault, bullying, racism, generational trauma, cultural marginalization – all exacerbated during the pandemic, perhaps for none more acutely than the BIPOC community…. The paintings, essays, poems, and short graphic novels are guileless and compelling, reminding us that so many of the citizens working to make the world a better place have suffered deeply themselves." Oregon ArtsWatch
"This book is an essential read for anyone wanting a glimpse into the minds and hearts of our youth during the pandemic. It is at times heartbreaking but also hopeful. This is what an authentic student voice sounds like." Rebecca Cohen, M.S., M.Ed., Oregon School Counselor of the Year
"As a public school teacher of 28 years, these global scholars left me speechless. This is the manifesto for generations to come. This is the semester course called, Voices from the Pandemic. It will arrive, and I would love to teach the course." Andrea Nicole Smith-Morgan Mindful Awareness Academy for Children
---
---
Remember that your donation is tax-deductible.
Make your donation and help MediaRites continue its mission!