Written and Directed by Dmae Roberts
Featuring Elaine Low, Bruce Burkhartsmeier, Samson Syharath, Zoe Anderson, and Tonya Jone Miller
In Collaboration with Portland Center Stage and Artists Repertory Theatre
Funding support provided by the Regional Arts & Culture Council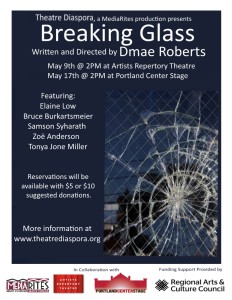 Set in 1980, Breaking Glass focuses on isolation, racism, a fractured biracial family in rural Oregon and each family member's determination to survive. First performed in 1995, Breaking Glass was staged as a reading by East West Players in Los Angeles and later published by Velina Hasu Houston in an anthology of Asian American plays. This staged reading by Theatre Diaspora celebrated the 20th anniversary of Breaking Glass.
"Breaking Glass is my personal story of family, culture and environment and the enigmatic qualities that make up a human personality," stated Dmae Roberts, the playwright and director of this production. "The play explores the breaking points and the determinants that spark one's will to survive life's obstacles, which is so powerful."
"This is definitely a play that will be thought-provoking and worth seeing. The cast is well chosen and very good…. I recommend this show and you should check out the company for future productions of plays." — Dennis Sparks, All Things Performing Arts
For more information about Theatre Diaspora, click here.